Meet our Culinary Team
Meet Marc Lewis, Director of Food & Beverage, New Orleans Steamboat Company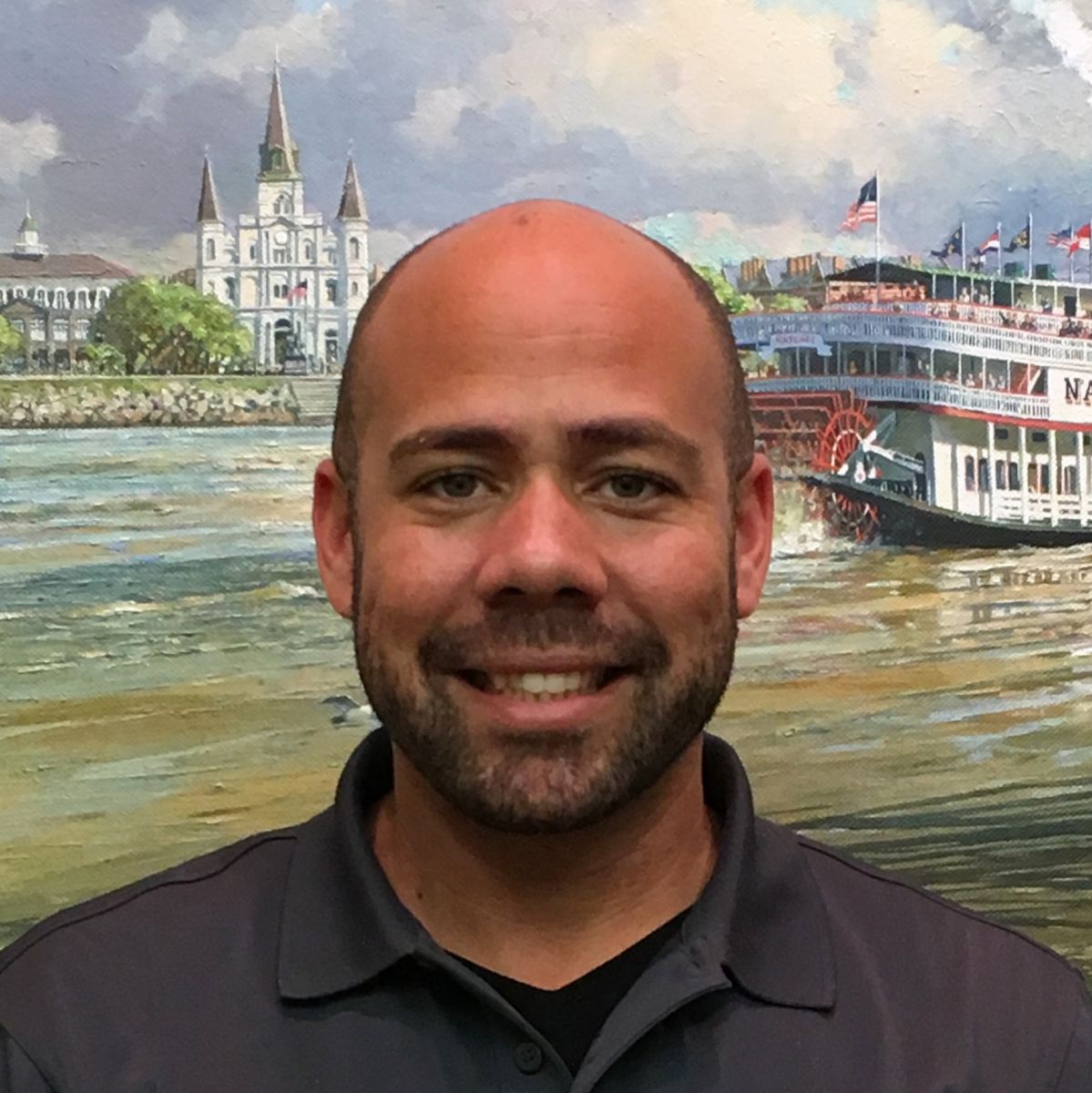 Marc Lewis graduated from Old Dominion University in Norfolk, Virginia with a Bachelors in Business Administration, majoring in Business Management and minoring in Human Resources. In October of 2005 after Hurricane Katrina, Marc traveled for his employer, Outback Restaurants, to New Orleans to assist in post Katrina rebuild. But he soon realized New Orleans had become his home and made the final decision to stay.
He accepted a Front of House Management job with the Outback Steakhouse in Metairie, while attending UNO graduate classes. In 2014 he joined the New Orleans Steamboat Company as a Food & Beverage Manager aboard the Steamboat NATCHEZ. He loves the city, its people and its culture. The Management of the Steamboat NATCHEZ was pleased to promote him in July 2016 as the Director of Food & Beverage! He has built a strong crew to serve our guests.
Marc introduces you to two of our foodservice professionals and intriguing individuals.
Steve Wells, Banquet Chef

The New Orleans Steamboat Company is excited to announce a new Banquet Chef for the Steamboat NATCHEZ, Steve Wells.

Steve has an extensive background as an accomplished Executive Chef, specializing in corporate, catering, institutional, and fine dining environments. With a degree from Delgado Community College in Culinary Arts, Steve also holds several certifications for further study and training from the Culinary Institute of America. In the past, he has served as Regional Executive Chef of Chartwells/LSU Dining for over 10 years, was an Executive Chef for Sodexo/UL at Lafayette, as well as Executive Chef and Sous Chef for fine dining at John Folse's Lafitte's Landing Restaurant in Donaldsonville, LA. Just before joining the Steamboat Company, Steve was Senior Executive Chef at Morrison/Our Lady of the Lake Hospital.

Favorite Dish: My go-to dish to make at home is a Pork Roast that is stuffed with green onions and garlic that is slow cooked until fork tender.

Pantry Must-have: The one thing that I must have in my pantry is Garlic.

Favorite Foods: I'm a huge lover of pasta. I really enjoy making Cajun Fettuccine.

Food Philosophy: I was born and have lived in south Louisiana all my life. The food's that we cook has so much flavor. I let the product produce natural flavors. I cook the Cajun way - not spicy, but rich in flavor.

Passion for Food: As most men in Louisiana, I started cooking as a hobby. I enjoyed it so much that I decided to make a career out of it. I enrolled in Culinary school and I was on my way to a great career. I had an opportunity to go to work and train at Lafitte's Landing with Chef John Folse. I learned many things from him that I still use today. This is where I got my formal training in fine dinning. I'm so grateful for the things that he taught me

"Steve has the knowledge and skills needed to provide high-quality food in a banquet setting," says Marc Lewis, Director of Food and Beverage for the Steamboat NATCHEZ. "He exercises diplomacy in management of staff, and his passion for the culinary arts drives ensures guest satisfaction and returning customers. We are happy to have him on board".