Time to plan for Valentine's Day
January 12 2017 |
news
It's never too early to plan a special night with your special some-one!
Tuesday February 14th is just around the corner. Make a reservation on the Steamboat Natchez for a night on the River.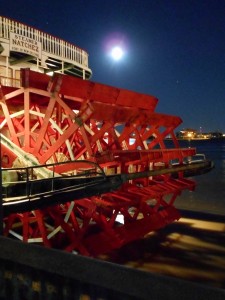 Valentine's Day, February 14, 2017
Potage de Tortue
Snapping turtle soup with sherry and chopped egg
Marinated Mushroom and Field Green Salad
Sesame marinated crimini mushrooms, field greens, fresh herbs and scallions with sesame soy vinaigrette
Pork Shank Osso Bucco
Slow braised pork shanks in hearty glace de veaux
Slow Roasted Prime of Beef
Slow roasted rib of beef served with au jus, horseradish cream, truffled mustard
Salmon Florentine
Fresh side of salmon roasted with creamed baby spinach and wrapped in a puff pastry crust
Creamed Spinach and Artichoke
Hassleback Potatoes
Seasonal Vegetable Melange
Sautéed Asparagus with White Balsamic
Sweet Potato Ravioli
With pecans and Steen's beurre noisette
Mascarpone Polenta
Bread Pudding
A New Orleans soufflé of La Louisiane French bread in rich custard with white chocolate chips and vanilla Bourbon milk punch
Tiramisu Popular coffee-flavored Italian custard dessert
Assorted Mini Desserts
Community Coffee and Iced Tea included
Wines and cocktails available for purchase
Reserved Seating. Reservations Required. 504-569-1401 or Reservations Page on this website.
---