Steamboat NATCHEZ more beautiful than ever...
January 6 2016 |
news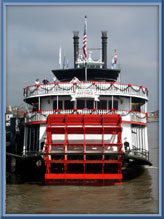 The 40 year old Steamboat Natchez will return to service on February 6th more beautiful than ever. Along with standard maintenance, the Steamboat is painted and details throughout the boat attended to while she is at the local boatyard. This year she will get a "facelift" on the Captain's Salon. The room located on the first deck of the boat is used for special events (such as weddings, corporate events, etc.) and also a small plates food offering location during our daily cruises. From walls to carpets to a renovated bar, the Captain's Salon is scheduled for completion shortly after the NATCHEZ returns to daily service on February 6th.
But while we are out of service please visit our sister company for other opportunities!
---