Meet the Bunny on the River on Easter Sunday!
March 16 2016 |
news
Easter Sunday 2016 Brunch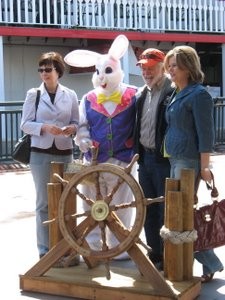 Bring Family and Friends to the Mississippi River on Sunday, March 27th
to Celebrate Easter & Meet the Bunny!
Both the 11:30am and 2:30 pm cruises offer reserved seating for the Jazz Brunch.
Enjoy the music of the Steamboat Stomper Jazz Trio, the river narration, a walk on the decks, and a visit to the steam engine room.
The Easter Bunny will be there to greet fans of all ages.
Enjoy the delicious buffet listed below and those 21 years and older can enjoy complimentary house wine.
Garlic Studded Leg of Lamb, Served with natural au jus
Carving Station Ham
Scrambled Eggs
Soup du Jour
Creole Creamed Spinach
Fruit Salad with house made limoncello
Creole Shrimp and Pasta Salad

Cheese Grits

Yogurt Cups

Fresh, Hand-made Beignets
NATCHEZ Bread Pudding
Red Velvet Cake with a Raspberry White Chocolate Sauce
NATCHEZ Biscuits with Jellies and Preserves
Reservations required on line or by phone 504-569-1401
---