Gilded Horns of Steamboat Racing
Jun 21,2021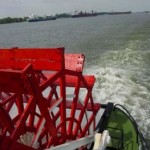 Imagine extreme sports athletes who have little regard for personal safety, put them in a competition like the World Series, wagered on like the Super Bowl and as elegant as Wimbledon, and you will perceive the aura of steamboat racing.
Technological advances, stronger engines, and reckless crews injected a new drug into the American mindset" speed in the mid-1800's. When transportation was no longer tied to the gait of a horse or the current of a river, the Golden Age of Steamboats was born, and racing was the ultimate ticket.
To command the fastest ship on the Mississippi River became the Holy Grail for hot-shot boat masters. Most important to the Captains, though, was pride – whosever was the fastest was the superstar, as big as any sports idol today. So, in 1852, regardless of the dangers, riverboat racing (with regulations) was born.
Beauty and luxury certainly counted in the competition, but speed was the ultimate achievement. To learn more read the Steamboat NATCHEZ & the History of Mississippi River Steamboats, photography and text by Kerri McCaffety with Captain Clarke C. Hawley. (Also available for sale at SteamboatNatchez.com