DUKES of Dixieland Celebrate with New Orleans VooDoo
October 29 2015 |
news
New Orleans VooDoo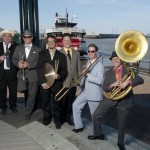 Three-Track EP Available October 31st
In a city that whole-heartedly celebrates vibrant live music, embellished costumes, and a thriving nightlife scene, the DUKES of Dixieland are celebrating Halloween, a holiday second only to Mardi Gras in the crescent city.
The new EP, New Orleans VooDoo, features three tracks with specific focus to the haunted holiday. The opener, "Marie Laveau," pays tribute to legendary Louisiana Creole practitioner. Papa Celestin wrote the song in the early '50s, nearly 75 years after the voodoo queen's reported death. The next track, "I Put a Spell on You," is a Halloween classic with bassist Alan Broome contributing his gravely voice for the track. Bobby Goldsboro's stirring "VooDoo Woman" rounds out the release with the tale of a seductive voodoo woman who needs to "stay away from me."
DUKES of Dixieland are a staple in the New Orleans music community with a history that traces back 41 years and seven-nights-a-week performances on their Mississippi River home base, the Steamboat Natchez (a tradition for 20+ years and counting).
The modern DUKES of Dixieland trace their history back to when trumpeter and cornetist Connie Jones left Pete Fountain's band to reform the band. Kevin Clark is the current bandleader who had previously served a thirteen-year tenure in the band before leaving in 2002. He returned to take the helm in 2010 bringing a new energy and integral experience from playing at Disney.
For more information on DUKES of Dixieland, please visit: DUKESofDixieland.com
---